A little tidbit for my readers today! :)
I introduce The Science of Sexy by fashion designer Bradley Bayou.
Looking to dress in a way that flatters your figure?
Then this is definitely the book for you, and it's so so simple.
This book has been making it's rounds in my area, I wanted to share!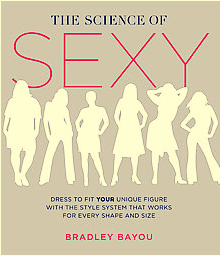 Fashion begins with wearing clothes that fit and flatter your body.
Yes, there is a science to this.
Bayou begins with a simple formula that categorizes your body into one
of forty-eight shapes. Yours is in there, count on it!
Using three distinct factors (silhouette, measurements, and weight),
your body type is determined.
Using myself as an example:
These three factors place me as
An hourglass figure
Short (5'2")
Medium weight (not available ;) )
From there, I am given a "What to Wear" and a "What Not to Wear" list.
Including undergarments, shape wear--blessings from Heaven, I know.
Tops, skirts, dresses, pants/jeans, coats/jackets, jewelry/accessories, shoesies.
Your head to your toes, it's all covered.
So if you're a little confused or possibly just curious about what works for you, I'd highly recommend you pick up this book! I certainly learned a few things...though I my break the rules sometimes. ;)
Happy Thursday!


xo,
Stefanie