Side note: Yay for first posts!
Sunday, Sunday. I love Sundays. Sundays are the days I head to my amazing church that I love and take naps afterward without feeling guilty. Okay, I secretly don't feel guilty taking naps any other day. ;)
Anyway! Every Sunday/Monday I'll be posting what I wore to church. This Sunday's outfit consisted of:
Jacket: Stolen from my best friend, and I'm pretty sure it's from Mervyn's or something (you know, that reeeally old place that is now nonexistent?)
Blue ruffled shirt: Ross? If so, it was probably about $8. This is my new favorite (seriously goes with everything), it's been in my closet for 5+ years. I cringe at the thought of getting rid of anything. I'm really bad about that actually, I purge maybe.....once a year? Fail on me.
Skirt: Forever 21, for 12 bucks! Yay! I've learned that they hide modest skirts in way down deep between the shirts and sweaters. It's fun and comfortable, and can be dressy or casual.
Belt: Forever 21 as well, it came with another skirt. Belts just add the detail you need.
Shoesies: Charlotte Russe, also about 5+ years old.
I normally don't buy shoes from there.
They're getting old and will be in the garbage soon :(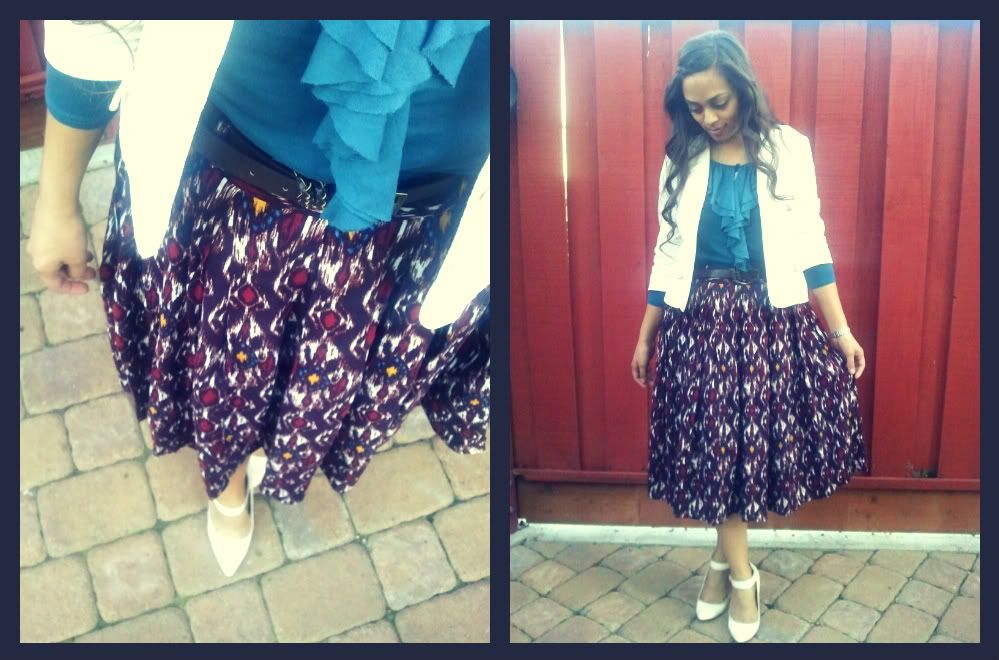 Try taking pieces you love and put something together, you might be surprised with what you come up with!
I hope you all had a good weekend. Happy Monday!


xo,
Stefanie